NEW CLUB WEBSITE/BLOG ADDRESS IS www.LeicesterShootfighters.co.uk
You can also use Leicester MMA and Leicester BJJ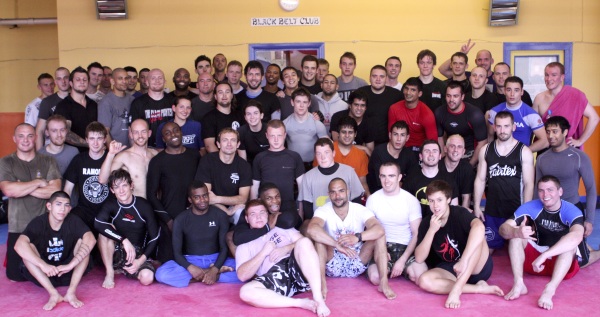 GYM ADDRESS IS:
Leicester Mixed Martial Arts Academy,
Unit 22 (top floor),
St Mary's Works,
Burnmoor Street,
Leicester
LE2 7JL
The building is on the corner of Burnmoor Street and Brazil, not far from the Walkers Stadium. The entrance is up "Stairs E", which is located by the rear of the building next to the gates.
Testimonials
"Nathan Leverton has a deep understanding of submission wrestling and mixed martial arts. this along with his patience and natural teaching ability makes him a great coach. Leicester Shootfighters is a great place for people at any level, from beginner to professional fighter."

22-6 MMA record
UFC Fighter
Cage Warriors World Champion
GCM Cage Force Tournament Finalist
"I was introduced to and guided through my MMA career by Nathan Leverton. I came to him a few years ago with very little knowledge about MMA and now I fight in the UFC. He is a genuine person who is putting his heart and time into helping me achieve my potential. For all those who wish to learn grappling or any from of MMA, wether it be a beginner or a professional fighter, then Nathan is the man to see. I have not come across better."
- Andre Winner
11-3-1 MMA Record
UFC Fighter
The Ultimate Fighter Season 9 Finalist
"Awesome grappler, great coach, and genuine person, with an open mind to learning, not what it says in the book, but what works."

UFC Fighter
Cage Rage Champion
FX3 Champion
EliteXC and MFC veteran
"Nathan's a good friend and a fantastic coach – his team's record this year should speak for itself! I always enjoy training with the Leicester Shoot guys and girls, and inevitably come away with some crucial pointers to tighten up and improve my game."
- Rosi Sexton
10-1 MMA record
Cage Warriors Female World Champion

"Nathan Leverton's knowledge and experience is the best I have ever come across, the man's teaching capability is superb and he can specifically improve your game at any level in either MMA or submission wrestling. He has improved my game immensely and I know he will continue to do so, I owe him a lot!"

18-5 MMA record
3-0 Kickboxing/Muay Thai record
Clash of Warriors Welterweight World Champion
Cage Gladiators Welterweight British Champion
House of Pain Welterweight British Champion
2h2h Road To Japan Tournament Champion
UK Junior National Judo Champion
UK Cadet National Judo Champion

"Nathan Leverton is not only a brilliant grappler with a great style, he is an amazing teacher that can adapt to his pupils attributes to teach a style that may be very different from his own but much more suitable."
- Dean Amasinger
The Ultimate Fighter Season 9 UK Team Member
"Nathan is a great coach and very friendly guy! He knows his stuff and is constantly on the lookout to further his knowledge which he is all to keen to share. I learnt a lot from him and look forward to working with him again in the future."

- Nick Osipczak
The Ultimate Fighter Season 9 UK Team Member
"Nathan's fanatical knowledge and intense research into all things MMA/Grappling makes his teaching interesting and easy to understand for all levels from beginner to pro. His open mindedness has helped me construct my own unique grappling style and gameplan that has helped me to be successful at a competitive level."
- Liam Corrigan


Ground Control Advanced Division Gold Medalist
GrappleMania UK Advanced Division Gold Medalist
U.M.A. Grappling Championships Advanced Division Gold Medalist
Combat Academy Groundfighting Championship Advanced Division Gold Medalist
Clash UK Amateur MMA Gold Medalist
"Nathan Leverton is the best coach I've worked with. His ability to break down the moves and explain them so you understand easier is amazing. Being a new member of Leicester Shootfighters I can see why the team does so well in Submission Wrestling and MMA. Nathan has been able to improved my skills already in the short time I've worked with him and the team, and I'm looking forward to keeping improving myself in the future. As an MMA coach he always comes up with an amazing game plan for any opponent, and his calm an positive attitude on fight night is perfect before, during and after the fight."
- Karsten M Lenjoint
6-0 Pro MMA record
1-0 SemiPro MMA record
Clash of Warriors Featherweight British Champion
"I can't say enough positive things about Nathan, the guy is a grappling genius, highly astute teacher and an all round good guy. Since starting at Leicester Shootfighters I have achieved many personal goals and have been able to develop a wrestling / grappling program at Leicester Tigers, all thanks to Nathan's input. If you are looking to improve any aspect of your grappling, wrestling or mixed martial arts game, contact Nathan, it will be a wise investment. He has a pedigree that is hard to match."
- Ollie Richardson
Strength and Conditioning Coach: Leicester Tigers Rugby Club, England Saxons, Leicester Shootfighters

"Nathan Leverton is superb coach. Nathan helped me prepare for the fighting hurts tournament and with only a few weeks training I reached the semi-finals, I attribute this success to the quality of Nathan's teaching. Nathan's harbours a massive amount of knowledge, but not only that, his ability to apply that as a coach is second to none in my experience. His coaching embraces many dimensions of development for fighters such as the solid fundamentals of MMA/Grappling, psychological aspects of fighting, skill acquisition, understanding of body mechanics/bio mechanics and progressively advanced skills and techniques that can turn a good fighter into a great fighter. Due to his wealth of experience you will never stop learning when training with him. I have found Leicester Shootfighters to be a friendly yet well disciplined environment where respect is paramount and whether your a beginner or elite fighter you will develop physically and mentally whilst enjoying the training"

- JD Hylton

ISKA European MMA Champion
ABA Midlands Boxing Champion
Fighting Hurts TV show cast member
Sports Physiotherapist

"Nathan 'Levo' Leverton is a fighters instructor. Inspirational, energetic and very very informative I would recommend for him to teach anywhere."
-Wayne Lakin
British and Commonwealth Judo Champion

LtoR: Nick Osipczak, Courtney Rawle, Paul Barton, Fabio Ferrari, Andre Winner, Jim Wallhead, Nathan Leverton, Dan Hardy, Dean Amasinger
NEW WEBSITE ADDRESS IS www.LeicesterShootfighters.co.uk
LeicesterMMA.com
LeicesterMMA.co.uk
LeicesterMixedMartialArts.com
LeicesterMixedMartialArts.co.uk
LeicesterBJJ.com
LeicesterBJJ.co.uk